Summer 2020
Expert Instruction in Tai Chi and Chi Kung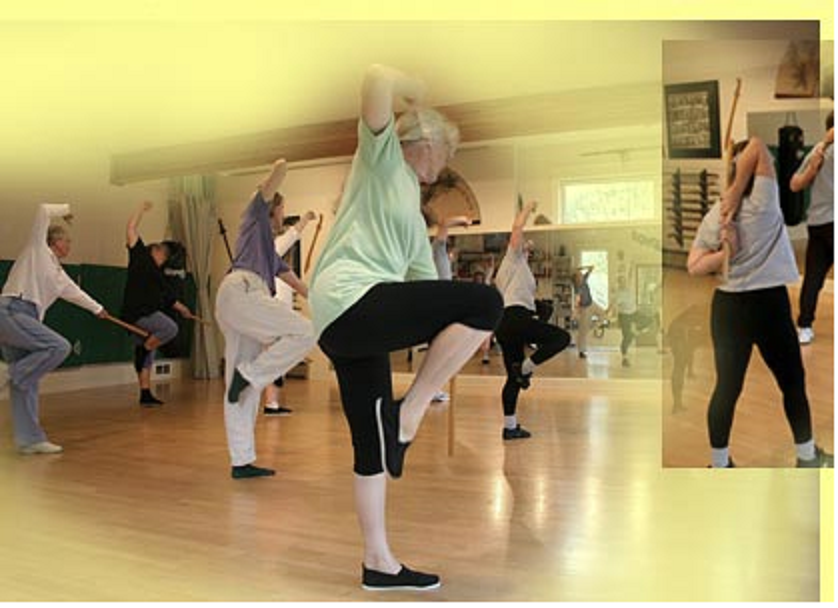 Our morning class is a great way to get the day started right!
Click here to view all classes offered by Gilman Studio>
Fees: No fees at this time.
Class fees: In 2019, there is only one fee for unlimited classes at the studio – $75 per month, or a special discount for couples – $50 per person. This enables a student to attend as many as 12 classes a week for the same fee, making a class as low as $1.50! Drop in fees are $20 per class. First class is always free. You may sign up at the Studio.
Saturday in the Park is always free to anyone.
Important Class Information: As of Tuesday March 17 until further notice.
Dear Fellow Tai Chi Enthusiast,
Due to the threat to our community, Heather has decided to cancel group classes at the studio. I certainly understand her concern for our safety. I am so sorry, but the situation demands being ultra careful. So all our classes at the studio are cancelled until further notice.
That said, I have decided to offer Tai Chi in the Park four days a week: Monday, Wednesday, and Friday at 9 AM to 11 or so, and Saturday from 9 to 11 as usual. All levels welcome. There will not be a monthly fee until we are back in the studio, hopefully sooner than later.
Stephanie will be offering her Thursday evening class in Chetzemoka. From 5 to 6:30 or so. This is usually the warmest time of the day. No partner exercises but lots of Stephanie's magic. Just show up. No fee.
Exercise, relaxation, fresh air, and the feeling of being in control are so important during this period. Our love and best wishes are flowing from our staff to you. Take care.
Time
Class
Instructor
8 – 9 AM

Morning Exercises – All wecome 


"Sticks"

Michael Gilman

9:15 – 10:15 AM

Senior Tai Chi


Short Form – 34 Moves. New Students Welcome

John Considine
Time
Class
Instructor

 

5:30 – 7:00 PM

 

New Beginning 108 Tai Chi 

 

Susan Leinbach
Time
Class
Instructor
8 – 9 AM
Open the Gates Qigong – Open to all students
Michael Gilman
9 – 10 AM

Advanced Tai Chi 108. 

Michael Gilman

10:15 – 11:15 AM

Short Form (New students welcome)

 

John Considine
Time
Class

5:00 – 6:30 PM

2nd Section Tai Chi Long Form 

    Instructor- Stephanie Morrell 
Time
Class
Instructor
8 – 9 AM

Morning Exercises – All Welcome


"Circling Chi"

Michael Gilman

9 – 10 AM

 

Tai Chi – Advanced 108

 

Michael Gilman

 

 
Time
Class
Instructor
9 – 11 AM

Saturday in the Park. 


Drop in Free – All Welcome

Michael Gilman

1 – 4 PM

Special Practices Workshop – First Saturday of each month

 Next : March 14 – Tai Chi Sword

Workshop held at the Studio – 913 L St , Port Townsend  $30 Fee

 

 

Michael Gilman