Winter 2018 – Starts February 2018
Expert Instruction in Tai Chi and Chi Kung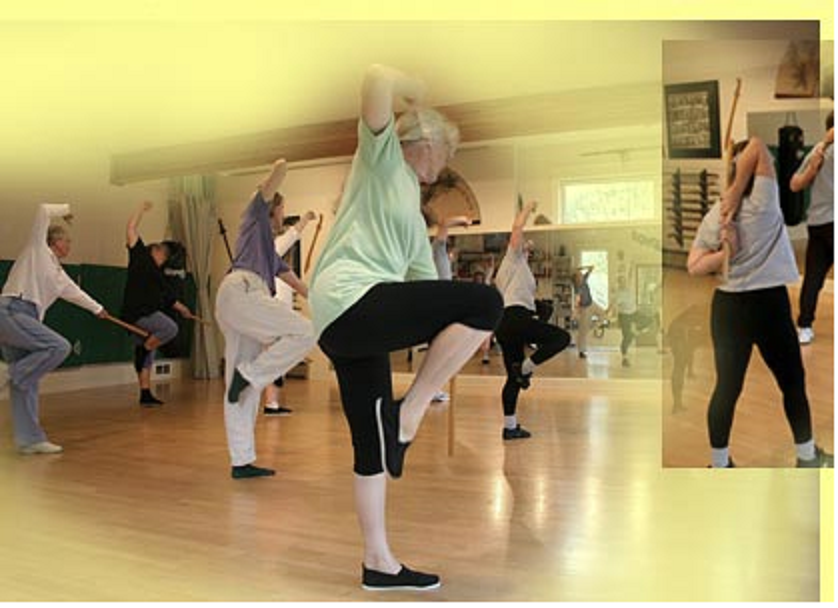 Our morning class is a great way to get the day started right!
Click here to view all classes offered by Gilman Studio>
FEES:
Class fees: In 2018, there is only one fee for unlimited classes at the studio – $75 per month, or a special discount for couples – $50 per person. This enables a student to attend as many as 12 classes a week for the same fee, making a class as low as $1.50! Drop in fees are $20 per class. First class is always free. You may sign up at the Studio.
---
Class Schedule as of February 1, 2018 – No Studio Classes in August. First Saturday Workshop and Sat. in Park continue.
---
Monday
---
Time
Class
Instructor
Location
8 – 9 AM

Morning Exercises – All wecome 


"Sticks"

Michael Gilman

Dancing Sky Studio

9:15 – 10:15AM

Senior Tai Chi


Short Form – 34 Moves

John

Dancing Sky Studio
Time
Class
Instructor
Location
5:30 – 7:00 PM

 Continuing Beginning Tai Chi

Long Form – 108 Moves

Susan
Dancing Sky Studio
Time
Class
Instructor
Location
8 – 9 AM

Morning Exercises – All welcome


"Open the Gates"

Michael Gilman

Dancing Sky Studio

9 – 10 AM

3rd section Tai Chi 108

Michael Gilman

Dancing Sky Studio

10:15 – 11:45

 Long Form Tai Chi

2nd Section – Ends June27

Stephanie

Dancing Sky Studio
Time
Class
Instructor
Location

         5:30 – 6:30 PM

 

          New Beginning Long Form

Tai  Chi – Ends June 28

 

                                                                     Stephanie                           Dancing Sky Studio

 
Time
Class
Instructor
Location
8 – 9 AM

Morning Exercises – All Welcome


"Circling Chi"

Michael Gilman

Dancing Sky Studio

9 – 10 AM
Qigong – Guan Gong Frolics – July 20

Michael Gilman

Dancing Sky Studio

12:30 -1:30 PM

Senior Tai Chi – Short Form

New Students Welcome

John

Dancing Sky Studio
Time
Class
Instructor
Location
9 – 11 AM

Saturday in the Park


Drop in Free – All Welcome

Michael Gilman

Chetzemoka Park

1 – 4 PM

Special Practices Workshop – First Saturday of each month

Aug. 4  – Partner Cane – Part Two

 

 

Michael Gilman

Dancing Sky Studio