Gilman Studio On-Line Lessons
Yang Style
Tai Chi Dao/Saber/Broadsword
This Lesson Contains:
Final Words and What is Next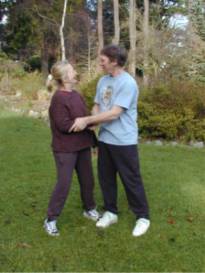 Special thanks to Stephanie Morrell, my opponent/partner in this course. She is a great person and a joy to work with. She took time from her busy schedule in the dead of winter to help make this on-line class possible. I owe her many thanks.
I also want to thank Anna Bachmann who took a majority of the pictures. I hope all goes well for her in Iraq as a Witness For Peace.
Finally, thanks to Vinnie Pollina who came through again just when I needed him.
All great students and people. They make my life more worthwhile.
I am very proud of all the people who followed through with this course. It takes so much effort to learn from the web, and especially still pictures. I have done my best to share with you one of my favorite forms. I hope it has helped you in whatever saber or bare hand form you practice.
As you know by now, I feel it is imperative to know the applications for all movement. They add focus and energy direction to your form. Be sure to ask your instructor for this information. If they don't think it is important, I think you should look harder for someone who knows. Tai Chi Chuan without martial applications isn't complete.
What's next
I have decided to teach the two person Tai Chi Saber Application Form next. This is a very short, informative, and fun form that can be learned as a single solo form or put together with a partner for a good work out and practice. I'll be taking a break of a month or two, and then I'll be back at it.
Video and CD
I have the video and CD about ready for this form. I'm going to be adding a store bar on the home page to offer these aids as well as the video and CD for the 108. Please keep checking back for these and other items of interest.
Finally, thanks again for all your support. I love to hear from you and, as always, offer whatever help I can via e-mail. Also check out the latest newsletter from the home page for words about the Teacher's Training Course and other things of interest.