Gilman Studio On-Line Lessons
Yang Style Long Form
Tai Chi Chuan
This Lesson Contains:
Movement # 79 – Step Back And Repulse Monkey – Right
This is the second repetition of the Repulse Monkey series. This first movement application is a rather straightforward block and strike following an attempted slap to the face.
Following Golden Pheasant, Yoshi attempts to slap my face with his right hand.
Place the left foot down, touching the toe, behind and slightly to the left of the right foot. As you step, the torso turns slightly to the right. Don't put any weight on the foot yet. Be sure to sink deeper into the right leg/Kua.
The left hand relaxes, and stays in about the same place, extending slightly as the body starts to retreat. The right hand is lifted to end by the right side of the upper chest, hand and elbow relaxed.
Focus on the left wrist for joining.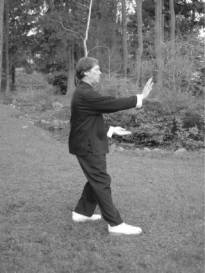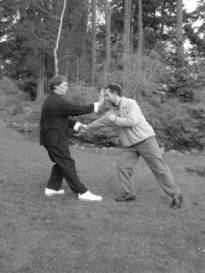 I counter-attack with the right palm to Yoshi's face.
Shift the weight onto the left foot, and at the end, turn in the right toe to face west. You are in Left Foot Sit Stance. The torso turns to face west.
The left hand pulls down to the waist and rotates to face upward. Don't let the elbow get behind the body.
The right arm extends outward, ending on the right side of the center of the body at about shoulder level. Be sure to keep some flex in the elbow.
Focus on the left hand for pulling and the right palm for striking.
Note: This is a good example of Lieh, or Split. The left hand is pulling with the same intensity as the right hand is pushing. Very balanced. My pulling adds much to the effectiveness of my palm strike.