Overview of Courses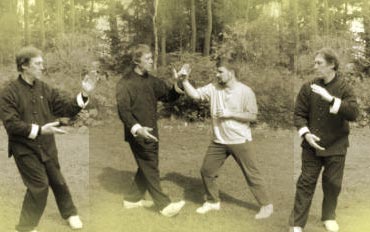 Yang Style Long Form Tai Chi Chuan
This is the style of Tai Chi Chuan practiced by more people than any other. Most of the popular forms today evolved from the Yang. Tai Chi started out with 13 basic movements and kept expanding until it reached 108 movements. All these movements are actually only variations on the basic 13.
Yang Style Tai Chi Special 34 Movement Short Form
This form was created and condensed from the traditional Yang Style Long Form. It was shorted for several reasons. The most important was to fulfill the need for a form that could be learned in a short time and still retain the flavor and principles of Yang Style Tai Chi Chuan. It takes at least a year to learn the Long Form and can take less than two months to learn the Short Form.
There was also a need for a form that could be practiced in todayÂs busy life and still returns the benefits that Tai Chi is famous for. The Long Form takes about 20 minutes to perform, while the Short Form takes around 6 minutes.
Yang Style Tai Chi Dao/Saber/Broadsword
This is a series of classes on the Yang Style Dao or Saber Form. It consists of 39 movements, many of which are quite similar to the Yang Style Long Solo Form.
Tai Chi Saber Application Form
This is a short, two-person form that can be practiced as a solo form. It explains the basic principles of the Tai Chi Saber or Dao.
Tai Chi Partner Cane Form
This lesson teaches the use of the Cane or Short Stick. This is a useful, short (11 movements per side) partner form.